Stretchable Pastes (KINOMEC)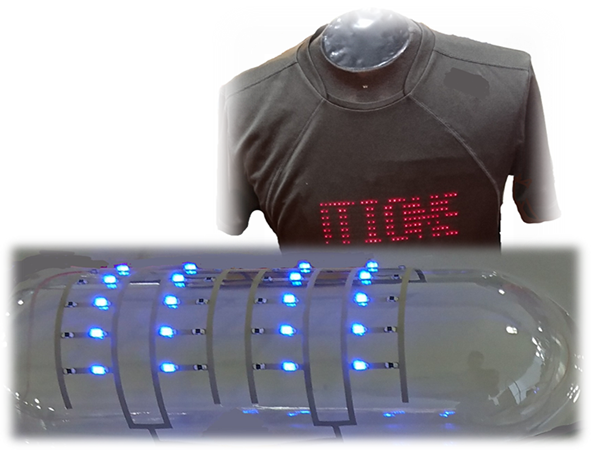 Vital organ sensors embedded in clothing
Key Features
Our stretchable pastes include (1) silver, carbon, and insulating pastes for stretchable wiring at ambient temperature applicable to e-textiles and Flexible-Hybrid Electronics, (2) silver, carbon, insulating pastes for heat molding wiring applicable to In-mold Electronics (IMS), and (3) highly stretchable conductive adhesives to mount other components on these electronic products. With our rich product lineup, we provide a comprehensive solution for your needs in these applications.
Property Data
Stretchable Pastes at Ambient Temperature
Basic Product Properties
Items
Unit
XE181G,
Silver Paste
XE182G
Carbon Paste
XE184D
Conductive Adhesive
XE185D
Insulating Paste
Specific Resistance
Ω・cm
<1×10-4
<5×10-2
<1×10-3
>1×1010
Viscosity
Pa.s
<500
<200
<50
<100
Nonvolatile Content
%
70-80
35-45
>90
20-40
Note: These numbers are not product specifications.
Main Applications
XKD10000 Silver Paste: Circuit patterns on substrates made of polyurethane, polyolefin, and polyester elastomer, and fabrics
XKT10400 Carbon Paste: Resistance for flexible PTC heaters, Protecting silver paste conductivity
H9230D Conductive Adhesive: Mounting chip components on a flexible substrate
XKZ10600 Insulating Paste: Protecting silver paste insulation, Crossover bridging for wiring
Heat Molding Paste
Gathering attention as a technology allowing simplified processes, In-mold Electronics (IME), especially for auto interior parts, will enable lighter, thinner, and fewer parts.
The suitable pastes are different depending on the molding process (including method, temperature setting, and patterning design), and the compatibility with decorative inks. A comprehensive solution service is available through consultation upon request. Please contact us if you are interested in our paste materials for IME applications.
Example of IME Application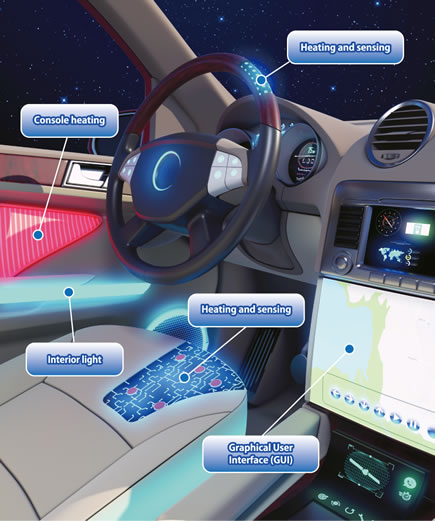 Pressure Molding, low temperature process is possible

Vacuum Molding, high temperature process is required

Related Products
CONTACT
For inquiries or consultation regarding our products, please contact us on the following page.