Stretchable Conductive Pastes
Vital organ sensors embedded in clothing
Key Features
NAMICS has developed stretchable low resistivity silver pastes, stretchable carbon pastes, stretchable printable thermo-set conductive pastes for circuit traces and stretchable conductive adhesives. The below materials are available now.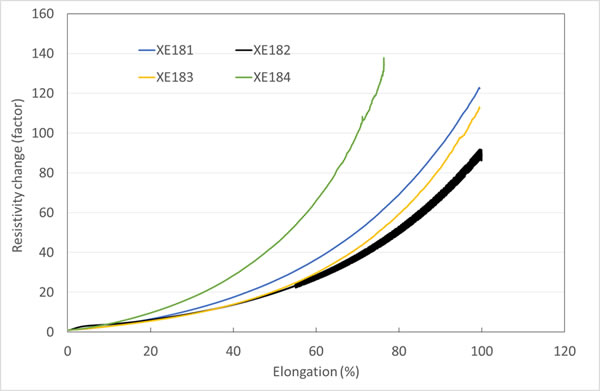 Resistivity change vs. Elongation
Property Data
Product ID
Binder system
Type of filler
Suitable process
Typical characteristics
Typical applications
XE181
Thermoplastic
Silver
Screen print
High stretch
Low resistivity
Low temp dry
Ciricuit line for signals
and/or electric power
XE182
Thermoplastic
Carbon
Screen print
High stretch
Low temp dry
Printed heater
XE183
Thermoset
Silver
Screen print
High durability
Ciricuit line for signals
and/or electric power
XE184
Thermoset
Silver
Dispense
High flexible
Adhesives for chip
components and connectors
XE185
Dielectric fillers
Screen print
High flexible
High insulation
Good compatibility with conductor
Protective,dielectric
CONTACT
For inquiries or consultation regarding our products, please contact us on the following page.