company
Development Approach
Technical Development
By refining the materials technology built up since our foundation and further strengthening the development of new technologies, NAMICS provides products which give three-dimensional form to the latent wishes of our customers. Through collaboration with our customers on products which they have suggested, we achieve product development that is dynamically in the forefront of next-generation transformations and contributes to the creation of new technical value.
Development Concept
Using CAE (materials, structural analysis) technology in our two core material (insulation, conduction) and process (formulation, dispersion) technologies, we develop quality high-tech materials which will lead the next generation in five growth fields represented by the acronym SEEDS : (S: semi-conductor, E: environment, E: energy, D: device, S: system).

Die Attach materials
Capillary Flow UF

Low-temperature /
UV Light Curing Adhesive
Low-temperature Sintered Paste
for Terminal Electrodes

Electrode materials for PV
Materials for power modules

Adhesives for various modules

Compound Material
(A customer's specification and process merits are considered.)
NAMICS Technology
We promote the development of conductive, insulation and film materials based on technology constructed from material, process and evaluation technologies. Our goal is always to transform the materials we have developed into even better products for our customers in the fields of electronics, semi-conductors, device, energy and the environment.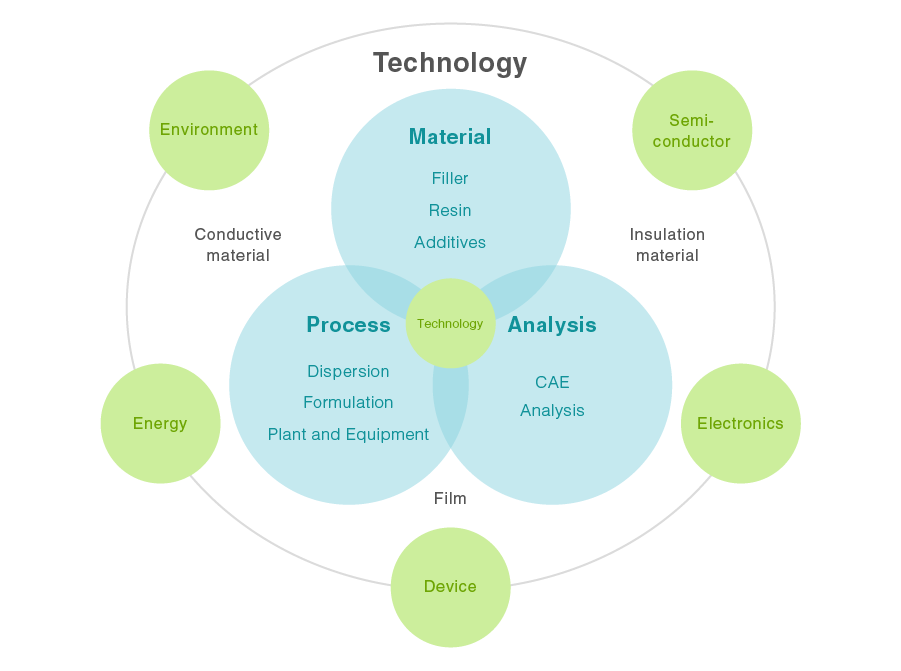 Cooperation with
New business creation…promotion of collaborative research through cooperation with industry, academia and government
Approximately 40 per cent of NAMICS' sales are due to recently-developed new products. This is because at NAMICS we continually bring new products onto the market, products which we plan and propose to adapt to constantly changing new needs.
In collaboration with universities and public bodies nationwide, we are working on research and development and have already produced results with products such as solder-replacement glues, copper paste for crystalline silicon solar battery.