NAMICS' products support living
Technology to support a comfortable, convenient and safe living
In a house, the TV, PC, smartphone, camera, LED lighting etc. Outside, solar cell, the car, etc. NAMICS' products are used for electronic parts such as substrates and semiconductors at the hearts of these. Although these do not appear directly to the eye, they are indispensable for the evolution of technology that realizes a comfortable, convenient and safe living.
Here and there, everywhere. NAMICS supports the control of equipment.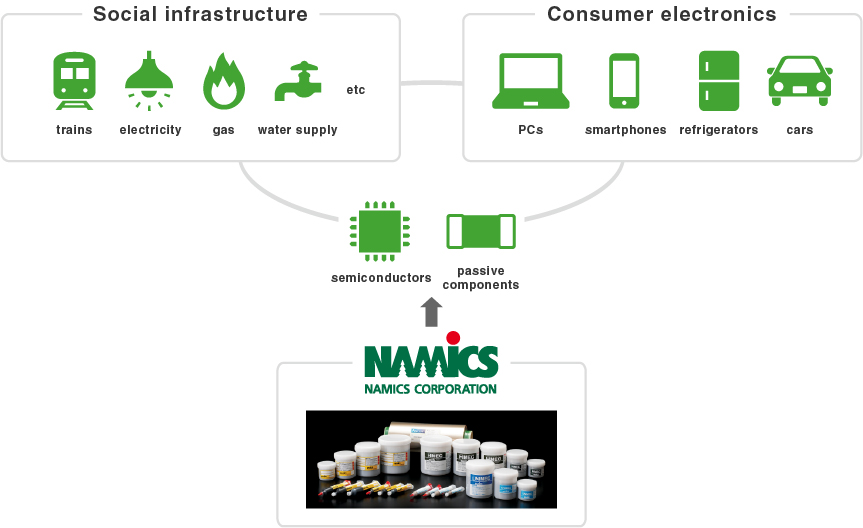 Among the places NAMICS' products are being used, items that are easy to imagine are the "cameras," "liquid crystal displays" and "sensor" parts of electrical appliances. Besides, controlling deep inside the equipment are the "semiconductor," "module/substrate," and "passive parts." In particular, "semiconductor peripheral materials" that require high-purity and highly functional materials are the areas where NAMICS' technical capability is most required. We also supply liquid encapsulant materials, adhesives and film products as insulating materials, as well as conductive materials. Where there are semiconductors, NAMICS is there. So, it can be said that NAMICS' products are in the PCs, smartphones, TVs and other digital appliances, in refrigerators, washing machines etc., the so-called white-goods, automobiles etc., in all sorts of products, even in train navigation system, in control system of social infrastructure such as the electricity, gas and water supply.
Furthermore, as semiconductors evolve, it will lead to not only the convenience of function but also to a reduction in energy consumption by decreasing the size and increasing the efficiency of electric appliances, which will reduce the burden on the global environment. NAMICS continues to develop advanced materials and contributes to the evolution of semiconductors. It plays an essential role in supporting modern life in the field of electronics and in leading to the creation of a prosperous future.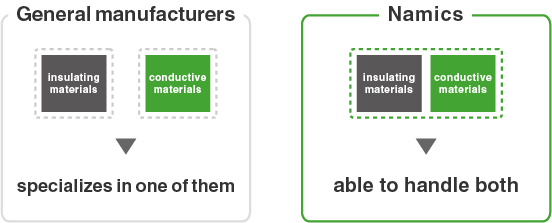 Accelerating expansion of market share. Over 30% of world market share for both insulating and conductive materials
Although the insulating and conductive materials in the electronics field are products of contrasting nature, both are necessary to create a circuit. Because each requires completely different technologies, manufacturers who handle both are few in Japan and are also rare worldwide. Besides, these electronic component materials have various uses and specifications, and the speed of innovation is fast. So, they have the drawback of not being suitable for that mass production. NAMICS specializes in such a niche field and focuses on R&D with a ratio of engineers to employees of 30% or more, spending 10% of sales as R&D expenditure. We offer custom-made products. We achieved about 40% of world market share in insulating materials and more than 30% for conductive materials. The NAMICS brand is accepted as the "de facto standard " in electrochemical materials.
Enter the age of IoT. Supporting the next-generation electronics materials, too.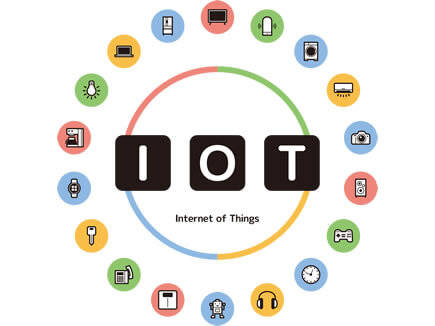 Lighter, smaller and thinner. To make it possible to mount it on electronic equipment of various shapes and materials, the movement to create flexible electronic circuits by using plastic for the substrate instead of traditional metal or ceramic has been accelerating. Also, as a conductive material suitable for solving the heat generation problems associated with miniaturization of semiconductors, NAMICS has developed low-temperature sintering type conductive paste using an original MO (Metal-organic) compound technology. For smart apparels with built-in biosensors, a high-elongation, low-resistance conductive paste is being developed. Besides, we are also working on the development of a copper paste that is less expensive than silver but has an equivalent conductivity. Since this copper paste is considered to be most suitable for printed electronics used for various information devices such as electronic papers, there is considerable enthusiasm for their development. In the IoT age when everything connects to the Internet, there are many opportunities to demonstrate the potential of the technologies developed by NAMICS.
Furthermore, with the progress of practical application of self-driving technology, new functions will be added one after another. The release of a complete self-driving vehicle may be realized soon. Many kinds of semiconductors such as microcontrollers will be installed in such vehicles. NAMICS has acquired the standard "IATF 16949" of the automobile industry and is fully equipped for the evolution of cars. We will support technologies of the future and contribute to a comfortable living.
Head of Marketing Division
Tatsuhiro Fujiki
Interviewed: September 2018