Corporate philosophy system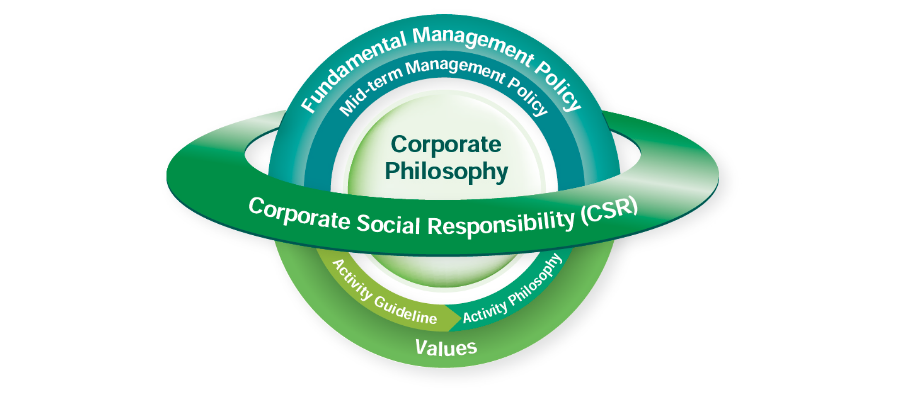 Corporate Philosophy
Mutual prosperity to both nature and mankind through creativity, innovation and sensitivity
Mutual prosperity is the basis of our management philosophy; indeed it is our company's raison d'etre. Our ultimate goal is art in the service of nature, leading to harmonious and advantageous coexistence between humans and the natural world.
The name NAMICS is an acronym of our principles, embodying the idea that sensitivity, innovation and creativity are essential if our goals are to be achieved.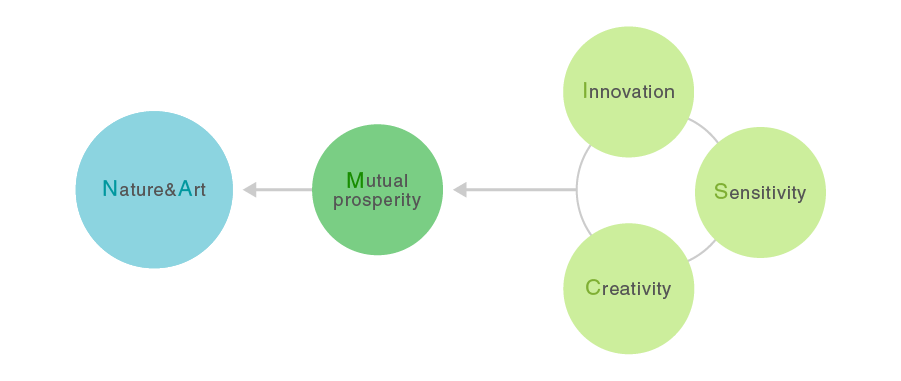 Fundamental Management Policy
"Be the only one and number one company in the electro-chemical material field"
To be aware of our core competencies in the electro-chemical material industry and to keep focus on new opportunities sincerely and honestly in order to enable us to realize our value to the industry.
We set it as our long-term management policy that we will continue to be essential partners for our customers.
Activity Guideline
"Self-reliance, Self-action, Self-help" "NAMICS WAY"
This Activity Guideline refers to how we should act to realize the objective that our company philosophy describes and our company name, NAMICS, represents. We take actions not by relying on others, but by thinking, acting, and achieving our goals for ourselves. This is to act following the guideline; 'Self-reliance, Self-action, Self-help' In addition to these personal efforts, we act according to the guidance of the "NAMICS WAY" which is the organizational culture we aim to acheive through our long-term action plan which is implemeted in ten year periods.
Corporate Social Responsibility (CSR)
"Compliance with Corporate Social Responsibility (CSR)"
To behave as a corporate citizen with an acute sense of social responsibility is also important in the process of healthy and sustained corporate development.
At NAMICS, we are serious about Corporate Social Responsibility (CSR) and continuously seek to improve through review of every company activity, such as; environmental conservation, compliance to our global supply system, social ethics, etc…
Social contribution through corporate business
We consistently provide socially beneficial products and services by carefully considering quality,safety and environmental impact.
We respect the culture and customs of local and global communities as we contribute to their development.
Compliance
We strictly observe applicable laws and regulations as well as company regulations in all of our corporate activities.
We carry out fair and free competition and trade, and maintain healthy relations with governmental administrative agencies, citizens and other related groups.
We appropriately disclose our company information and thoroughly control personal and customer information.
Respect of Human Rights
We respect the human rights of all people and prohibit all acts detrimental to individual dignity, including discrimination by race or gender, child labor and forced labor.
We promote a safe and clean working environment where our employees' capabilities can be maximized.