Daycare business
contributes to the region
and supports working people
Employees' children and local children grow up together
In recent years, the diversity of work styles has come under focus. In our company as well, the need to create a comfortable working environment is becoming more and more important, for example, to cope with an increase in the number of employees and to secure employment for female employees. Against this background, we opened the " Ebigase Nursery School Amic" in 2016 as a nursery school that can be used not only by employees but also by local residents.
We started an In-House Nursery School by obtaining approval from the local authority

At Namics, the project to make a nursery school to look after employees' children as a fringe benefit for employees dates back more than ten years. To provide an environment where employees could have peace of mind to work was an idea dear to the heart of both the current President Odajima and the previous President. When the new child support system for raising children in Japan was introduced by our government in 2015, the project gathered momentum.
Adopting this system, in spring 2016 we opened "Ebigase Nursery School Amic", an in-house nursery school which not only looks after the children of employees but also children from the local community. A new business that contributes to the local community has launched.
An initiative to reduce the burden on guardians who work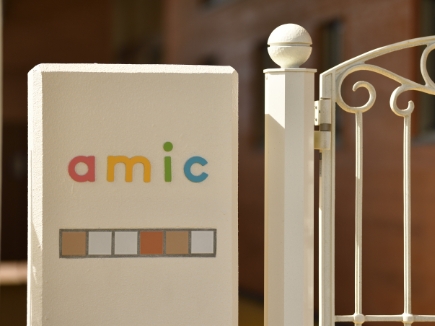 The nursery school takes its name "Amic" from the Latin word "amicus" and its various derivatives such as French "ami" and Spanish "amigo" meaning "friend." It is located in Ebigase in Higashi Ward, Niigata City. Children aged under one year to five years old are put in classes according to their age, but since we also practice team daycare, the children live up to the name by playing together and spending time with children from different age groups. We want to create a fun nursery school where children are keen to go to play every day.
To lessen the burden on guardians who work, we provide full meals, futons for an afternoon nap, and diapers. We organize professional teachers for extracurricular activities such as music, gymnastics, art, and English so that guardians don't need to drop the children off in a different place and pick them up later: instead children can do all classes here. This is convenient and reassuring for guardians and popular with children who can enjoy activities with their friends.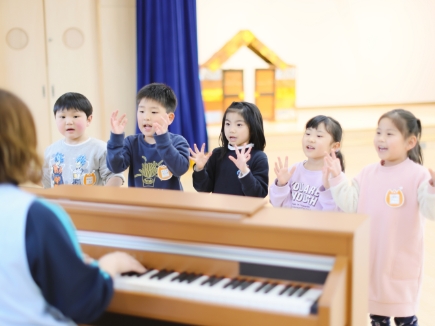 Contributing to the local community by supporting the child-raising environment
When the nursery school first opened, the local child quota was restricted to local children up to the age of two. However, the system was relaxed in 2020 and now all children up to the age of five are welcomed. This means that the number of children doesn't change due to age and leads to closer relationships among the children. In 2020, a total of eighty children used the center. Of these, 45 were from the employee quota and 35 from the local community quota. By fulfilling the role of an outlet for local children and supporting the expansion of the child-raising environment, the nursery school contributes to regional development.
Our daycare business is just one of Namics' many initiatives to promote sustainable development goals and corporate social responsibility. Together with the local community and for the sake of the people who live there, we will continue to expand such initiatives in order to advance towards the goal set out in our corporate philosophy: "to achieve happiness for everyone and cause nature to prosper through creativity and innovation."
Voice of guardians who use "Amic"
What appeals to children? What helps to guardians?
We asked guardians who actually use "Amic" what they liked about it.
I have a five-year-old and a three-year-old at the nursery school.
Mrs. Yamada (local quota)
Both of my kids take part in four different types of extracurricular activities including music and art and they love it. When I go to open days and festivals, it's exciting because the children's work and the program they present are unique. Teachers and children have a very friendly relationship. There are lots of smiles and the atmosphere is great. If I have any questions about the children at the center, I appreciate the way the teachers always take time to answer courteously.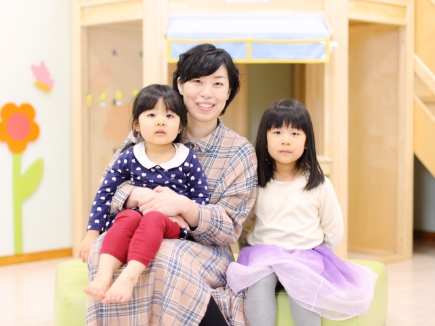 I've used the center for two years since I went back to work after childcare leave.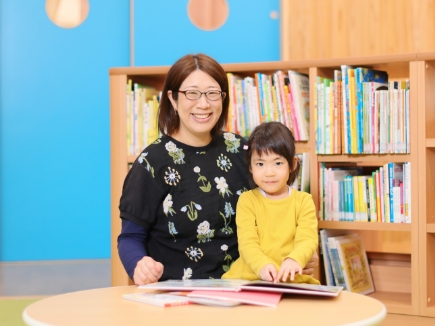 Mrs. Yoshii (employee quota)
Since the head of the nursery school is the President of Namics and the teachers are also Namics employees, the system is familiar and reassuring. One helpful thing is that they look after children on public holidays when Namics employees have to work. My three-year-old daughter has English lessons twice a week and loves them. In the course of my work I have to deal a lot with other countries. This makes me very aware of the need for English so I'm glad my daughter has the opportunity to come in contact with English at a very young age. I also feel it will give her more options for the future.
For a healthy future for children
"Amic" is a nursery school where guardians can leave their children in total confidence. It was established to enable guardians to work and raise children at the same time. When "Amic" first opened only four employees needed daycare. It was President Odajima's idea to turn it into an "open nursery school" with room for 100 children which could be used by local people as well as employees. Therefore, it is also open on Saturday, Namics' day off, for the sake of the local community.
"Amic" doesn't just look after children. The facilities and the curriculum were designed to encourage children to grow and develop through many different types of experience and learning in a pleasant environment. A big playroom, and bouldering or free climbing area, and four different extracurricular activities are just some examples of what we offer. We will continue to help employees and local people by listening to their needs and further user-friendly of the nursery school.
Deputy Principal
Masahiro Honma
Interviewed:February 2021